Managing Risks of Integrated Systems
GCEA / Healthcare Technology Foundation Programs
Networked medical technology and standards are not new to clinical engineering (CE) and information (IT) professionals. However, new challenges are facing these professionals as a result of the integration of multiple platforms in healthcare delivery organizations. In such an evolving environment, additional risk management methodologies and mitigation must be implemented.
To give the CE and IT communities the tools they need to successfully navigate through these new challenges, AAMI and the Healthcare Technology Foundation are collaborating on developing educational programming on the practical application of the methodology and the roles that are needed to apply to system risk management in order to sustain it over the lifecycle of networked medical technologies. Through this training, CE and IT professionals will gain new skills that will benefit their patients, healthcare delivery organizations as well as contribute to their own professional growth and development.
Program Objectives
Identify methodologies for risk analysis and management of dynamic systems of integrated devices
Understand the overall concepts of ANSI/AAMI/IEC 80001-1

Application of risk management for IT Networks incorporating medical devices – Part 1: Roles, responsibilities, and activities
Apply project and change management principles to developing, implementing, and managing networked systems
Identify tools and resources to sustain safe integrated systems related to both wired and wireless networked environment
Presenters
The program is being presented by the following group of leading experts who have extensive experience in networked medical technology risk management, especially in the area of risk analysis, change management, wireless networking, and have participated in the development of the IEC 80001-1 standard and related guidance documents.
Yadin David, Biomedical engineering Consultants, LLC
Ted Cohen, Manager of Clinical Engineering, UC Davis Medical Center
Sherman Eagles, Partner, SoftwareCPR
Ken Fuchs, Senior Principal Scientist-Technology Research Institute, Mindray North America
Phil Raymond, Senior Global Product Manager
Format
This one-day program consists of industry experts' lecture, real life case study examples, realistic simulated scenarios, multiple discipline collaboration and a variety of facilitated discussions specific to integrated healthcare organizations.
Who Should Attend?
Instruction is geared to multi-discipline professionals involved with integrated systems such as CE (Clinical Engineers), BMETs (Biomedical Equipment Technician), IT (Information Technologist), Safety and Risk Officers, and Facility Managers. To maximize the peer learning opportunity, Healthcare Technology Foundation/AAMI recommends this course for those who already have a basic understanding of integrating devices into a network.
Date & Locations
Future dates to be announced!
The Association for the Advancement of Medical Instrumentation (AAMI) and the Healthcare Technology Foundation would like to thank Symantec Corporation for their support.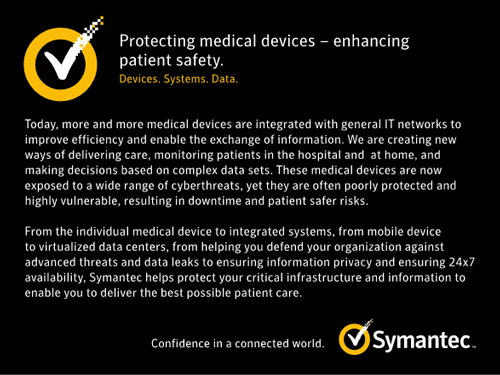 ---
Board Member Presentations
2012 Connectivity Conference Boston Cohen (3Mb)


2012 Connectivity Conference Boston Hyman (811Kb)